Who said trash bins shouldn't be sanitized?
A sanitized trash bin decreases your family's exposure to harmful germs and bacteria. This is a ECO-friendly curbside service that only uses all natural products to sanitize and deodorize your trash and recycle bins.
ATL Fresh Cans does the dirty work for you!
Customer Satisfaction Guarantee:
Dramatically reduce grime, dirt, and germs in and on your bins.
Confirmation, schedule reminders, and service will be delivered and communicated timely.
Protect your local environment by not leaving a mess.
Enjoy being stinky bin-face-free.
3 Simple Steps for ATL Fresh Cans
Sign-up.
Leave your can out on your scheduled day.
Enjoy your sanitized ATL Fresh Cans, Bin Fresh. Bin Clean.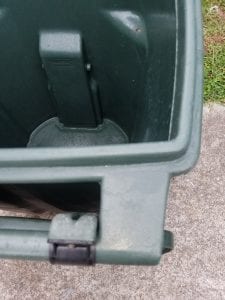 WORTH. EVERY. PENNY. I never knew a trash can could smell CLEAN. I just moved into a new place and the trash bin was, to put it lightly, less than desirable. I booked their service just two days prior on their website, which was super easy to use and very affordable. I got email and text updates all along the way. Definitely would recommend 🙂
My trashcan was disgusting! ATL Fresh Cans came when they said they would and removed all the stuck on gross stuff in and on the can. My garage no longer smells like the garbage dump. Thanks so much!